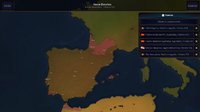 ---
Similar Content

By JPM-Stalin

Time of Civilizations-Topic
 
ToC is a great scenario that is being developed by JPM. In one single stage will be the whole History of Human Civilization. From the dawn of civilization through empires that rise and fall, to today and the tomorrow.
Next Features
Many Events, Historical ones, even diferent paths for some special nations. New Civilizations. A new system made by events, where you can change your nation every 100 Years if you want. A new system aganist Overexpansion but without limiting you to play. Progress
Working in the Demo, based on Mesopotamia, where you will see Hordes and how Empires are created and fall.  This means that we will have new Civilizations inside the Game. MESOPOTAMIA EDITION (Without Events) OUT
In this Small Scenario, you can play in 1500BCE in the Middle East. From the Hittites to Egypt. There is a HRE, "Mesopotamia" where you can try to be the Emperor of the Entire Middle East. Also it has some minor Nations which could be very hard to play. But well, you decide with who you are going to play. 😁
ToC-Mesopotamia Edition without Events by JPM.zip


By KaMiKaZe

Lukasz, make a form on Google Forms, or anywhere for staff, so moderators / administrators can delete, and help the game community (If there is an error, it is the translator's fault)
This may be good for you and you can set aside more time for your creations / games.